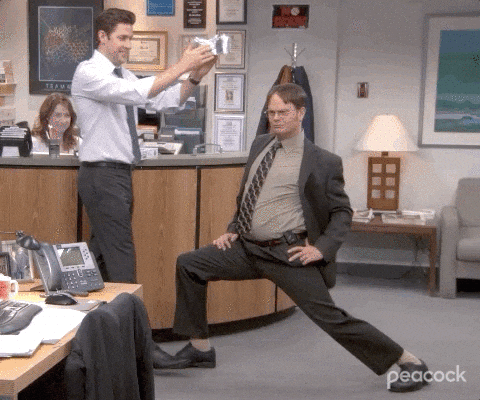 As the new semester begins, we at the Blog figured it would be a good idea to introduce our readers to the newest blog editor: His Royal Highness Jon Pejo! For those of you who don't know, Jon is a senior in the College studying English and history and has already left quite a legacy behind at Georgetown. From New Student Orientation (NSO) to The Hoya, almost everyone knows Jon's name. But who is Jon? Cece Ochoa and I spent some time with Jon to get to know him a bit better.
Jon's Latest Articles:
What's the most recent article published under Jon's name, you may ask? It's "9 Ways to Stay Healthy During Flu Season." Yes, it's from 2019, but the topic is very relevant today. Is Jon also a prophet by predicting the current dangerous flu season? Read the article to find out! (Also, get your flu shot kids!)

However, Jon has started a new column with the lovely former Blog Editor Abby Weintz on how they are the old ones at Georgetown now. While the first article, "Senior Year: A List of Grievances," is under Abby's name, all of us in the section can swear that Jon did contribute. The piece answers some commonly asked questions from the first month of being back on campus, such as, "Why is Lau 2 dead silent?" Great job, Jon, on writing your first article in almost two years!
Fun Facts About Jon:
Where might people know Jon from?
He has been very active in NSO! Additionally, he was named Georgetown's Funniest Human in 2020, so he's kind of a big deal. Finally, he sang Frank Sinatra's "My Way" on a table at a Club Filipino event while he was sober.
What is Jon's favorite Georgetown memory?
Jon has enjoyed all moments of NSO. Ask him about any specific day he worked at NSO, and he will definitely have a good story to tell about it.

What is Jon's favorite campus food?
He loves Leo's garlic breadsticks. Not going to lie, the breadsticks are one of the best you can get, and, dare I say it, they might be as good as the ones from Olive Garden.

What is on Jon's senior year bucket list?
For whatever reason, Jon's senior year bucket list includes catching up on lost time at The Tombs. We think it's so he can perform Frank Sinatra's "My Way" with a larger audience and possibly under different circumstances. Anyways, keep an eye out for Jon's ~incredible~ singing talent at The Tombs this year!

Who is Jon's favorite Georgetown graduate?
Given Georgetown's incredibly long list of notable graduates, none stand out to Jon more than Bradley Booper. You may remember Oscar-nominated Bradley Booper in iconic roles such as Broot, the lovable tree in "Guardians of the Galaxy," or in movies such as "The B-Team."

What is the best thing about the Blog, according to Jon?
Here at the Blog, there's one thing we can all agree on. No, it's not that the best chef is writer Lincoln Le or that WordPress is the best platform available. It's that objectively, without a doubt, the best part of the Blog is Jon Pejo. And we're glad to see he agrees!

What does Jon hope to accomplish as senior editor of the Blog?
While the virtual Blog was full of fun, wholesome, chaotic vibes, Jon's number two priority is to keep and improve these vibes as we return to in-person blogging. What's his number one priority? Is it having fun? Of course not. It's a strategically planned TikTok takeover! So keep an eye out for all your blog favs (i.e. Jon Pejo) on The Hoya's TikTok!
Any closing messages?
As Jon put it kindly, "God bless President Kennedy." Unfortunately, he could not stick around to explain this one. So, uh, we'll leave this to reader interpretation.
Closing Remarks:
All of us here at the Blog are very excited to see the long tradition of having such amazing editors continue. We are so excited to see the Blog flourish this semester and hope you all stick around to catch Jon's future articles!
Header Image: Vogue