Spring break came and went very fast. Some of us went to help the less fortunate in areas like Mississippi and Honduras. The rest of us did not. Instead of making a decent contribution to civilization, many of us at 4E (and Georgetown in general) went to places that were farther and much more dangerous, and then partook in ~debauchery~ once we got there. By that, I mean we either went home or to tropical beaches. The people in ABP and Global Brigades may have followed the message of the Gospel, but we followed the message of Parks and Recreation: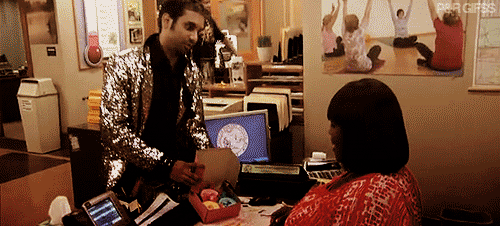 While thinking of your friends on service trips during spring break, you might have begun to think about something else while you relaxed on the beach: your increase in weight since coming to college. For some, being with other people really magnifies such thoughts and propels them to assess their physical state. In order to document this common occurrence for college students, here 4E has created a general timeline of how you gain weight during your freshman year:
Late August: It's time for move-in day! You've been running/swimming/lifting/starving all summer long. You've done it all for the idea of going into college in pristine physical shape. In your eyes, you're a workout warrior; nothing can bring you down now! 
NSO to mid-September: You've been having the time of your life for the first few weeks. Classes have not really picked up speed yet, and you're going out two, three or maybe even four nights per week. Then there are EPI QUESADILLAS and, even better, CHICKEN FINGER THURSDAY. You know that you can't keep this up forever, but it's the beginning of college! You've been keeping up with exercising and haven't noticed any physical changes yet, so you figure you're in the clear.
Late September to Homecoming: It's midterm season, and classes are dragging you down. You stay in a few nights focus on your studies and skip a few parties. However, this also comes at a price: you can only work for so long before making a run to Vittles or Epi. And this is where the downfall beings. By the time Homecoming rolls around, these food runs are part of your daily routine. You are also confident in your ability to down fifteen chicken fingers for lunch. But hey, don't sweat it…you've got plenty of time to work out, even if the last few weeks of midterms have caused you to miss a few days. 
Homecoming to Halloween: Madness. Absolute madness. You're just finishing up midterms, and the excitement on campus is building due to the closeness of Halloweekend. You're being super productive, and you don't even think about your runs to Corp storefronts or Epi. You finish all your work before the big weekend, so you're super excited to eat and drink everything whatever comes your way this weekend. But wait! Your Flex Dollars run out, and then you realize that you are not only gaining weight, but also losing money. Before you know it, you have to dip into your beloved Debit Dollars in order to satisfy your desires those wild nights. 
Morning after Halloween to Thanksgiving: You dressed up as a Goth person for Halloween and wore black clothes and black makeup. However, you wake up with also a black tongue. Did you ingest some of your makeup out of desperate, drunken hunger? No, because that's gross. Luckily, you begin to recall a hazy memory of going to Vittles and eating an Oreo ice cream sandwich…..after eating a chicken quesadilla with extra guac AND extra bacon (a recent revelation). The post-Halloween lull sets in, and staying in becomes a regular occurrence. But fear not! You find solace in food. At this point, you are sure that you are out of shape and are gaining weight. Instead of working out, you are now porking out.
Thanksgiving to Christmas: After stuffing your body to the point where you hate everything about yourself, you return to campus for a surprise: warm weather's back! It's in the 60s and you see this an opportunity to bring the shorts back out. You do notice, however, that they feel a bit…tight, and the pockets appear to be…stretched. You are beginning to accept that your original plan to stay in shape is failing, and you make it your goal to get back into decent shape over break. 
Christmas break to mid January: Does this plan work? Of course not. Christmas break was like Thanksgiving, except it continued for three weeks. Sitting on a couch while watching four seasons of SVU (five times through) is never good. You also indulge with your friends from home, which kind of(?) makes it okay. You start going out after basketball games, and while your pants feel tight, they don't seem to be getting any tighter! You take this as a good sign, and keep doing what you're doing.
Mid-January to Spring Break: Long weekends, Valentine's Day, and midterms all take their respective tolls on you. You go out to eat more, but you can still squeeze into your pants for formal. You discover other items at Epi, such as the buffet and the 1984, that satisfy your cuisine needs. In the week before spring break, your beloved Vittles ice cream sandwiches are the only things keeping you going during those late nights in Lau and MSB.
Spring Break: Assuming you are not on a service trip, you're living it up either at home or a hotel. No words necessary; spring break is not good for weight loss and physical fitness. You bring running clothes to Florida, but only run to the store for ice cream. The rest of your days are spent watching TV, going to the beach, and overall throwing up having a good time raging relaxing. You generally ignore how much you consume during this week.
Post-Spring-Break-Mortem: You feel awful about yourself because you ate and drank things that you shouldn't have consumed. Does this make you improve your dietary habits? You already know the answer. It's Sunday morning before classes resume. Leo's is closed, and you're HUNGRY. None of your friends respond to your invitation to eat, so you decide to go to either Wisey's or Booey's alone. Next thing you know, you're at Good Stuff before 12 PM with a burger and shake in your hands, and you're eating alone at a table. Instead of just getting a Snapple or an ice cream sandwich at Vittles, you now polish off a pint of Häagen-Dazs AND a quart of milk in one night. You finally realize that you have officially transformed from a workout warrior to a complete couch potato.
If you identify with these stages, you're not alone! Some view gaining weight as an unavoidable part of college. Don't sweat the food runs; everyone does them at some point. My prediction for the future? Going to Good Stuff alone is probably as low as you can go, so you should be in the clear. Just keep doing whatever you're doing because you have all summer to get in shape. In the meantime, remember that once Georgetown Day comes…nothing's going to hold you back.
Photos/gifs: giphy.com, women2.com, athleticx.net