On the weekend, Georgetown students face many different choices. To wake up for Leo's brunch, or to forego food until 3 PM when Tapingo opens? To get homework done early on Saturday, or to leave it for Sunday? To go out, or to have a rousing night in with your ~ladies~?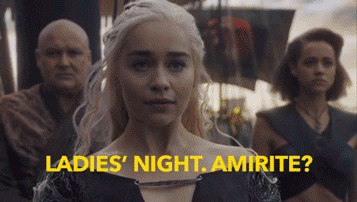 If you decide to pick the latter, I would suggest a wild game of truth-or-dare. But why not take it a step further? Why not make it a game of Georgetown inspired truth or dare?
DARES
Streak on Copley Lawn (we're looking at you, Cait).
Skinny dip in Dahlgren fountain.
Steal Kim Kim's panini press.
Find a willing friend and make out with them on every floor of Lau.
Go behind the Cosi counter and make your own meal to save yourself a two hour wait.
Truths
Have you ever stolen something from Leo's?
Have you ever walked in on your roommate doing something awkward (i.e. lying naked on the bed singing, picking their nose, etc.)?
Have you ever excessively complimented your professor in an effort to raise your grade (Problem of God is not as easy as people make it out to be…)?
How many of your Flex Dollars go to late-night Epi quesadillas?
Where is the most embarrassing/inconvenient place you have thrown up (I hear Walsh and White-Gravenor are not very accommodating)?
With Piano as a no-go and people getting too lazy to host parties what with mid-term season in full-swing, we at 4E hope this game of truth-or-dare can salvage your otherwise boring Friday night.
*Disclaimer: if you get caught doing any of these dares, we at 4E cannot be held responsible.
Photos/gifs: giphy.com, gaap.georgetown.edu