We at Georgetown have a unique way of doing just about everything. From bragging about being busy, to blowing up our favorite sandwich shop for falling victim to the ~Great Wisey's Rat Scandal of 2017~, Hoyas have many strange ways. In 4E's latest exposé, we learned this extends to Tinder. Here are the steps you take as a Hoya when you see a fellow Hilltopper on everyone's favorite dating app:
Check your mutual friends: This is the most pivotal step. The last thing you want to do is swipe right on someone that you will 100% actually come into ~real-life~ human contact with. That's not the point of Tinder. If you two have more than 20 mutual friends, you might actually know this person: you had deep, meaningful conversations with met a lot of people during NSO. 
Make sure she's not the girl that sometimes sits next to you during CPS recitation: 

I know you can't quite remember what that girl looks like. You know she has brown hair. Wait, maybe she has blond hair? I'm pretty sure her name is Catherine. Or Katie? Caitlyn???? Nah, this isn't her.

Read her bio:

 

The bio can give you vital clues in your quest to figure out if you know this girl or not. She's from New Jersey. She's a Gov major and an Econ minor. She really likes Netflix. She's

so chic

just like literally every girl you've met since you've been here.

Stare at her for another minute: This is the last step in making sure you do not know this girl. It's always good to squint, and turn your phone brightness all th

e w

ay 

up.

Double-triple check that it's not your biology TA: It could be. You've only been to recitation like twice.
Swipe right: You're now sufficiently positive that you have never met this girl and will probably not meet her in the near future. She's perfect to swipe right on. I hope you guys match, see each other one night on a Vil A rooftop, and awkwardly not to talk to each other.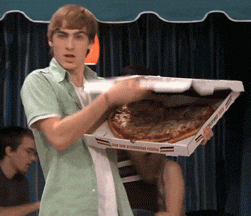 Photos/Gifs: giphy.com, tctechcrunch2011.files.wordpress.com