Today marks the last day of spring break, a wonderful week in which Hoyas flock all over the world. Whether it's for travel with family/friends, community building through the Alternative Breaks Program/Global Medical Brigades or just a relaxing week at home, students got to get off campus and take a break from the high-stress environment of school.
…Unless, you know, you stay on campus.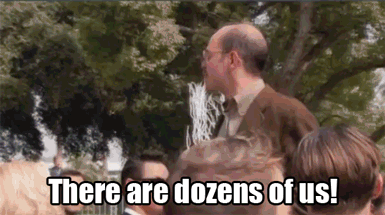 When I told people I was staying on campus for break to catch up on work, the general reaction I got was: "It's okay!" After a couple incidences like this, I realized that, despite my relatively self-pitying state, it was okay. A lot of students stay on campus, for a variety of reasons, and (despite a couple of drawbacks) I realized by break's end that it was totally acceptable. Here are the pros and cons of staying on campus for spring break:
Pro: You really do get more work done.
I see you, Kid Who Went Home For Break. You brought your backpack and a couple of notebooks with you. You said you were going to get a lot of reading done, "especially on the train." In reality, your Netflix profile would show that you spent all of break alternating between episodes of Unbreakable Kimmy Schmidt and whatever else the kids watch on TV these days.
Well, if you stay on campus for break, you totally still have Netflix access. But you definitely don't have the comfort of your couch/bed at home, making school a way more productive environment.
Pro: Outlets/tables EVERYWHERE!
You know the feeling. You walk into your prime study spot during midterm season, feeling motivated for the first time all week – but alas. There are no tables or cubicles available. And even if you can find a random chair somewhere, all of the outlets are taken. Do you expect me to go to Lau 5???
During break, there are literally only four people in a given place at a given time. If you want to use one study room in the HFSC for your backpack and another for your computer, DO IT! If you want to use all four outlets on a Lau 2 pillar for your phone, computer, microwave and hair straightener, WHO'S STOPPING YOU?
Con: Nobody can help you with household tasks.
If the trash builds up, you can't rely on your roommate to take it out.
Or, in my case, if you can't open a jar of pasta sauce (I had just bought it, in my defense), no one is around in the apartment to laugh at you and begrudgingly open it. Instead, you have to go out into the street and ask a random family visiting Georgetown if one of them can help you out. It's… Not good.
Pro: There's time to actually get off of campus!
Normally, I almost never leave campus, unless it's for food. But with the whole day open, I took fellow blog writer Marina's advice and headed to one of the many, many little coffee shops around Georgetown. Getting out of the campus atmosphere really helps to clear your head.
Con: It can get lonely.
No one is around to laugh at your terrible jokes, unless you feel like telling a random grad student that if he/she was a fruit, he/she would be a fineapple. Yeah, I didn't think so.
Pro: Your schedule is literally bound to no one else's. You can do whatever you want. 
It's break, so there are no classes. You don't have to send out a group text if you're heading to Chipotle – you just go. If you leave Trader Joe's and realize what a nice day it's become, you don't have to hurry home because there's class and homework and meetings. Basically, your life is like Home Alone minus the burglars.
So when you're planning your #SB2016 next year, maybe consider staying on campus. It's not as contributive as ASB, not as fun as a beach house, not as comforting as home… Wait, what was my point again? Whatever the case, while staying on campus might not be ideal, it definitely has its perks.
Photos/Gifs: Giphy, gifrific.com, variety.com