Hello, Hoyas on the Hilltop and abroad. I am currently studying in Hong Kong, and well, even across the Pacific, I still see snaps and get email updates, so all in all, I have a lot of questions.
 WHAT IS THE NEW LEO'S LIKE?? Is the food good? Is the renovation lovely? Are there lines? How is the food? What is your favorite "station" or whatever you call the different dining options upstairs? How do you like the food?
How long is the line at Chick-fil-A? 

Last year at 3pm the masses would convene in Hoya Court to hit up Subway, Così and the other two or three places at which you could use a meal swipe. I'm assuming that whenever Chick-fil-A opens there is a large line. How do you pass the time? Do you wonder why it is not open on Sunday's? Do you contemplate the Problem of God?

 Where is the new Uncommon Grounds?
 Does Patrick Ewing enjoy being back at campus? Honestly, I bet we're all asking that. And also wondering will this be our year to make it to the NIT March Madness?~Coach Ewing enjoying himself at his 1985 Georgetown graduation~
 And when did we become a football school? 

Now, I'm not a math major, but if you add Georgetown football  to RFK stadium, we are still not a state school.  I guess pretending we're a football school for a day will have to do until we turn into one.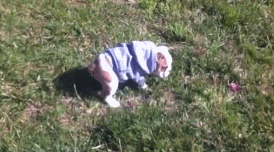 Roll Hoyas!
Photos/Gifs: Giphy.com, Quickmeme.com, redbubble.net, hoyas2015.georgetwon.edu, wikitravel.com