There are many things that go hand in hand without need for explanation. Football and Thanksgiving, Lau 2 and procrastination, Burnett's and regrets, winter and leggings, Leo's and sickness, Rhino and freshmen. But one of the most important of all of these is a good ol' pint of Ben & Jerry's and your go-to Netflix show. We at 4E have enough experience to provide you with a proper menu for pairing the perfect flavor with the perfect show.
"House of Cards" and Americone Dream:  What better way to celebrate 'MERICA and its politically corrupt president in "House of Cards" with a vanilla, caramel, chocolate swirl waffle cone infused pint of B&J. You'll be scooping mouthfuls of this stuff as you observe Frank mercilessly and oh so cleverly battle his way to the top.
"Gilmore Girls" and Raspberry Chocolate Chunk Froyo:  You may need a little something for comfort as you ceaselessly fret over the future of Lorelai and Luke or Rory's incessant complaints over her boy troubles. This is where a pint of delicious raspberry froyo sprinkled with chocolate chunks comes into play. Better yet, the fact that it's froyo and says raspberry on the label makes it healthy enough to fit into the diet you started this morning.
"Weeds" and Half Baked:  With recent legalization laws in place, it's only fitting that you celebrate with a classic stoner show and some ice cream to help with the munchies. This flavor is not very complicated, but it's oh so good with its chunks of gooey cookie dough that your pint will be gone in no time.
"Scandal" and Karamal Sutra:  Not only will the title of this ice cream make you feel a little scandalous, but its rich caramel chocolatey core may also get you all hot and bothered. Maybe this is what you need to embrace your inner Olivia Pope and her fierceness. ¡Muy escandalosa!
"It's Always Sunny in Philadelphia" and Hazed and Confused:  What better way to watch the debauchery of these five underachievers with a little, scratch that, a lot of Ben & Jerry's Hazed and Confused. Like this show, this ice cream combines everything that is good in life into a pint of pure bliss (hazelnut and chocolate). Beware: this show does involve hysterical laughing and tears of happiness, so remember to eat your ice cream in between episodes or during commercials.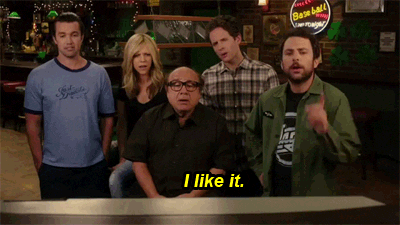 Gif: Giphy; Photos: whattofix.com, netflix.com