It's safe to say that the last month has been a whirlwind. The end of Thanksgiving break, all those formals, finals, finally coming home all in the holiday season, Christmas and New Year's Eve has been a lot to handle. Amidst all the chaos, however, you probably still had time to go out and have fun with your friends. One or two nights (or maybe even all of them, if you're ambitious) between that first study day and your first final probably looked something like this: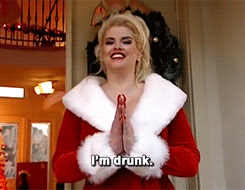 You probably had an unbelievable night dressed as some holiday-related getup and posted the most basic picture of all time on Instagram. Meanwhile, you might have woken up the morning after and looked something like this: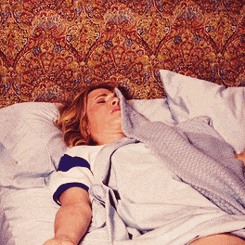 The mad rush to finish the fall semester ~with a bang~ included formals, sweaty Henle parties, trips to Chi Di, trips to Piano Bar (after getting rejected by Chi Di) and just relaxing evenings at Booey's with friends. Most, if not all, of these experiences had you feeling down in the dumps the next morning or even later that night.
However, the holiday season has taught us at 4E that not all hangovers are the same. Maybe you woke up with just a slight headache one morning, but then the next morning you woke up feeling like death and slightly sick from all the Quick Pita food you had at 3 AM. So while 4E once told you how to survive those day-afters, I have composed a guide to classify what type of hangover you might be feeling as part of the Sunday Scaries.
The Classic Beer Hangover– You wake up with nothing more than a pounding headache and the warm, delightful taste of Natty Light (read: you also smell like this, which makes you feel slightly queasy). This type of hangover probably came from a trip to Booey's or the aforementioned sweaty Henle party. You'll typically experience this throughout your time at Georgetown. The positive side of this experience? An easy remedy is to pop a few Advil and head to Leo's.
Death by Burnett's– The other side to a typical party: a handle of some flavor of Burnett's being passed around. Although you know this never ends well, you decide to go with the flow and deal with the consequences later. You wake up feeling ill. You feel sick and achy, but you manage to get up, clean yourself up, and then head out for the day. If you head to Leo's brunch, this hangover is sure to be a thing of the past.
The Aftereffects of Various Alcohols– The pregame started at 10 and you lasted until 2 AM. You had it all: beer, Burnett's, some sort of juice and a sip of water at Epi (because that helps with the hangover, right?). Rumor has it there were even a few ~special~ ingredients in the jungle juice you had at that Vil B. Combining the aspects of the last two hangovers, your hangover makes you feel like death. Even after a shower, Advil and eating  the best of Leo's brunch leaves you feeling hollow and just not your best. Unfortunately, the only way to get through this is to wait it out; by the end of the day, you'll feel well enough to go out again and repeat the process.
Post-Blackout-Mortem– Similar to the previous topic, you drank a hodgepodge of everything. You went from apartment to apartment to bar to bar, and made the most of every stop. Although you can only remember so much of it, you know you drank a lot since you wake up in the same clothes with some sort of orange liquid staining the front of said clothes. Is it a drink from last night or…? You don't want to know, and you probably won't find out unless your friend shows you the pictures that you wish didn't exist. In the meantime, you focus on getting out of bed, because you can only think about one thing right now and even that takes every ounce of strength. Let's just say that brushing your teeth, which is supposed to feel good, turns into a nightmare.
Continuing Drunkenness– You wake up NOT HUNGOVER and feel like you're on top of the world. You congratulate yourself on a job well done and figure what you can do next time to repeat the experience. As you begin to ponder this, however, your head starts to slightly throb until it feels like you're being repeatedly thrown down the Lau steps. You start to feel sick and realize that your hangover is starting later than expected. Why? Because you were still drunk when you woke up. Although this may seem concerning, have no fear! Your options include accepting defeat or you could just keep it going! Either way you're going to have a rough day. Nevertheless, you push forward.
…Not Hungover?– Against all odds, you wake up truly not hungover and go about your day per usual. Either you didn't drink that much or it's just your lucky day. Although this is rare, it does happen. If it happens to you, congratulations! You can only go downhill from here.
So readers, take this as a guide for when you're feeling under the weather on those Saturday/Sunday mornings of 2017. Happy New Year and, most importantly, stay responsible!
Photos/gifs: giphy.com, viralchakra.com