To the Class of 2019:
You're probably sitting at home right now trying to think of a creative way to introduce yourself to all of your potential CHARMS matches. If you're already feeling stressed about this monumental life decision, then we may have some bad news for you. Things will only get more stressful. You haven't even thought about which posters you'll put on your wall or which picture you'll submit for your GoCard. Odds are, you'll start freaking out, but then again that's why we're here.
As you get ready to move onto the Hilltop, we here at 4E would like to provide you with a few words of wisdom. Some advice, if you will, on how to survive the awkward transition from high school proms and graduations to college dorm rooms and shenanigans. We've all been in your place before, and seriously, looking back we wish we had some honest advice before moving into our cramped, 200 square foot spacious dorm room. So, here is a compilation of advice for all of you incoming freshmen…may the odds ever be in your favor.
1. Invest in a Lanyard: Lanyards are fashionable and functional. They allow you to swipe into your dorm and Leo's with ease, so you don't have to spend 10 minutes searching for your GoCard. You'll notice that when you arrive on campus, all Hoyas will be sporting this trendy look. Make sure to invest in a variety of patterns and colors to coordinate with your outfits. The last thing you'll want is for the look to clash, which would just be tacky.
2. Listen to Cool Music: "Cool Music" in college is defined as any song that could be considered on a "Top 50 Pop Songs" playlist. Know these songs. Bring loud speakers to school and blast the same 5 songs on repeat 24/7. You'll be sure to attract the attention of your floor mates and make a lot of new friends.
3. Always Talk About High School: Seriously, it never ends! People in college love talking about that period of time when they had braces and used lockers. Bring things like your prom crown or 11 varsity letters so you'll have something to impress all of your new friends. Remember, if you don't actually bring these things to prove how cool you are, then everyone will assume you're lying.
4. Expand on the Buddy System: Remember when your 3rd grade teacher used to make you use the buddy system in class field trips? Yeah, well college takes the buddy system to a whole new level. Any time you even think of hitting up cool places like Brown House on the weekend, you better get all of your closest friends (read: entire floor) together. Traveling in a herd will help you blend into the sea of upperclassmen so you'll be more likely to get into parties. Which leads to…
5. Know Your Ratio: Always be the person in your herd who brings up your ratio. The number of guys versus girls can be key in getting into any party. The rule is pretty simple: always make sure you have way more guys than girls.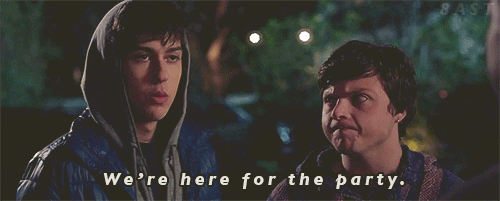 6. Buy a Vespa: Imagine getting your class schedule during NSO and realizing that you only have 15 minutes to get to White Gravenor from Healy! This can only mean one thing: you will be late to class every time and your professor will hate you. Avoid this problem by purchasing a Vespa. This is essential if you're assigned to Darnall, which is basically Siberia.
7. Work Hard, Play Hard: If you don't let everyone you meet know this is your motto, then you're doing college wrong. Make sure you actually say this phrase as often as possible, otherwise it's not believable. Especially to upperclassmen. They can relate.
Photos/Gifs: theguardian.com, imgur.com, giphy.com, tumblr.com