Well, folks, as the saying goes: close, but no Juul. G
Despite a valiant effort, our Georgetown Hoyas juuuuust missed the NCAA tournament this year. But it's not all bad! Be sure to tune in to the NIT, which sources tell me stands for Not In the Tournament! For those unfamiliar with the world of college hoops, this is kind of like ending up at a Henle party after getting rejected by Piano. It's certainly not the outcome you were hoping for, but it's still better than sitting at home alone.
So as much as I <3 Patrick Ewing, it's time to turn our attention to the real action. Without further ado, here is 4E's guide to filling out your March Madness bracket:
Virginia is (Not) for Lovers (of Winning Basketball Games), Too
Loyal readers will remember that this writer totally called last year's unprecedented and historic upset, accurately predicting that the 16-seed UMBC Retrievers would knock off the juggernaut top-seeded Virginia Cavaliers. Click here to see that this is actually true and one of my greatest life accomplishments to date. Yes, that prediction was "mostly" based on the fact that I liked UMBC's adorable canine mascot, but we cannot rule out the possibility that my keen college basketball acumen played a role as well. And guess who Virginia is playing in the opening round this year? You guessed it: The Gardner-Webb Runnin' Bulldogs. History tends to repeat itself, and this writer sees Virginia heading home early once again. Don't bet against the dogs.
We've Heard Those Loyal Fellas Up at Yale (and Then We Decided Not to Pick Them to Win Any Games)

I have it on good authority that the Yale basketball team is solely comprised of kids with rich parents who claimed to be really good in high school but have actually never stepped foot on a basketball court. Looks like it won't be a "Full House" in the arena during this game, am I right? (Get it? Look, I know it's a stretch but I can't afford to hire a proctor to help me punch up these jokes, so this will have to do)
Remember Your Jesuit Values

The Duke Blue Devils? The Arizona State Sun Devils? Not today, Satan! These squads are clearly trying to tempt you into straying from your Jesuit values. March Madness is no time for such sinful endeavors, my fellow men and women for others. (Editor's Note: I literally cribbed this exact paragraph from my March Madness article last year, and guess what? Neither of these teams won! The facts don't lie, my friends!)
Case in point: did you see what happened with Zion's shoe earlier this year? I cannot definitively comment on whether or not the eternal war between the Almighty Lord and Beelzebub definitively played a role in that occurrence, but I can confidently say that Mac McClung's shoes looked pretty sturdy to me all season. They won't teach you this in PoG, kids.
Related: it is NOT COOL that Obama still lives in D.C. but never comes to our games anymore. And yet he goes all the way to North Carolina to see Duke play? All while leaving us stuck at home with Mike Pence??
Is this team from Tennessee? Cause they're the only Ten I See!
The Tennessee Volunteers? That sounds pretty cura personalis to me. Great name. Much better than a team with orange jerseys just calling themselves something dumb like the Orange. Could you imagine? Man, that would be ridiculous. Tennessee is the only orange team I choose to recognize, and I think the Volunteers are winning it all this year.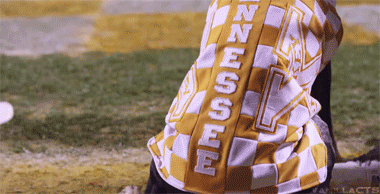 So there you have it. Good luck on your brackets! And hopefully next year, we'll be cheering on our Georgetown Hoyas in the big dance!
And by we, I mean you, because I will have graduated and it won't really be the same for me watching at home as a washed-up post-grad! I'm not upset that the team didn't make the tournament for a single one of the four years I was a student here though! Seriously, I don't care and I'm fine! I mostly came to Georgetown for the football culture anyway! I love tailgating at Cooper Field! Hoya Saxa!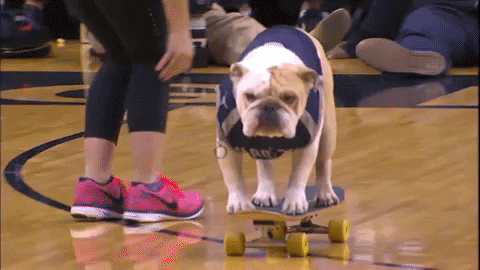 Sources: giphy.com, gardner-webb.edu, getty images, tumblr.com