If you're reading this, then a BIG congratulations is in order!  You've made it through the first half of finals, and are still somewhat alive thanks to the amount of caffeine flooding your bloodstream this very moment.  There's only a few days left to power through exams and papers before it's all over and you're lounging around, enjoying the summer.
While you're surely relieved that this finals season torture is coming to a close, finding the motivation to keep pushing forward can seem difficult.  The weather is great, the sun is shining and for some reason your econ textbook just couldn't seem duller.  To make matters worse, your notes from class are actually illegible and you have no idea what your professor was lecturing on for about half of the semester.  The stress is building, and you're starting to doubt your ability to cram four months worth of material into 24 hours of studying.  More than anything 4E knows that finals are an emotional roller coaster, the likes of which could be put to music to accurately capture all of the ups and downs.
Here is 4E's "Soundtrack to Your Finals":
1. One Man Can Change the World (Big Sean Ft. Kanye West & John Legend): Yes, it's true you can change the world!  You're feeling really motivated to start studying for your bio exam, and hey, maybe pushing yourself a little harder will lead you to find a cure for cancer.  Well, probably not… but a good grade in the course is worth it too.
2. Boulevard of Broken Dreams (Green Day): Studying is not going well. You know nothing. Forget trying to cure cancer, you're just trying to pass at this point.
3. I Hate College (Sam Adams): You've never hated anything any more. Forget keg stands and parties, college is just a never ending amount of work which no one ever seems to write songs about.
4. The Middle (Jimmy Eat World): You have some salvageable notes from class, and you attended most some lectures.  If you really focus you know that you can learn the material, it just takes some time but everything will be just fine.
5. I Won't Back Down (Tom Petty and The Heartbreakers): Finals won't intimidate you.  You're finally making progress and the information is starting to click.  Only 6 more chapters to get through!
6. The Climb (Miley Cyrus): This has been the longest day ever, but look how far you've come!  When you sat down to study hours ago you didn't even know what DNA is, and now you definitely know way too much.  Regardless, you should be proud that you've managed to make some sort of progress.
7. Closing Time (Semisonic): You've been in Lau for over 12 hours and your exam is at 9 AM.  It's time to go home and attempt to get at least a few hours of sleep before you have to face the inevitable.
8. Power (Kanye West): It's the morning of the final and you're ready.  The proctor hands out your exam but you're not intimidated.  The clock's ticking, but you've got the power of knowledge on your side.  ***Note: We recommend listening to this song on the 10 hour loop.
9. Shake It Off (Taylor Swift): It's over.  You're done.  Shake off any worries you have and reward yourself with a nap, snack, Netflix binge, etc.
10. Corona and Lime (Shwayze): Some time after decompressing it'll hit you that it's finally summer.  Celebrate!  Go crazy!  School's out and you deserve a drink!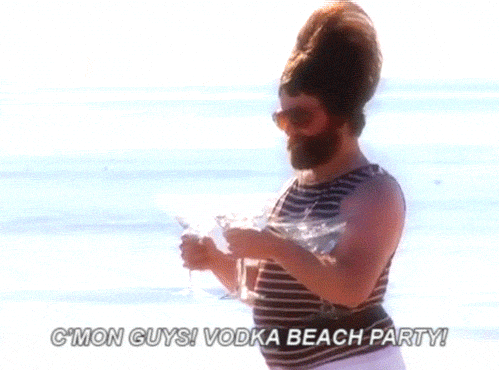 Best of luck on the remainder of your finals, Hoyas!  Just remember that you've only got a few more days of living in a Lau cubicle with limited human interaction before you're free for the summer.
Photos/gifs: reactiongifs.com, giphy.com, tumblr.com,