We're almost two weeks out from Halloween, and even though we've been celebrating and talking about it since mid-April, it's actually time to get ~serious~. If there's one thing we all know for sure, it's that Halloween isn't so much about having fun as it is about getting a new killer cover photo or breaking 200 likes on your Instagram pic. With the help of 4E, you have four solid, not totally atrocious nor totally basic costumes to choose from. Better yet, they're all tailored to Georgetown, so it reduces the likelihood that that one person you hate from your high school will be wearing the same costume as you. With one of these bad boys on, we wager you might even break, like, 300 likes.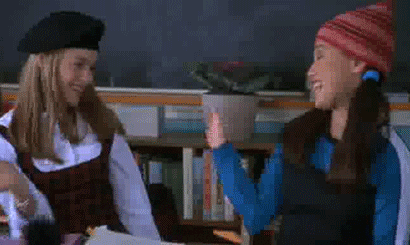 1. John Carroll (Statue)
To start off this list we have a Georgetown classic: the John Carroll statue. I'm tailoring this costume to specifically refer to the statue because I don't know what John Carroll looks like in non-statue-form, and neither do you. Anyways, this one is great because you can decide how far you want to go with it, you can keep it simple and wear a long sleeve shirt and wrap a sheet around your lower half or you can go all the way to statue-mime-street-artist.
This costume will also buy you at least like 15-20 minutes of good, solid attention at any party you walk into, and once everyone is over it, just saunter right on to the next party.
*Sexy "John Carroll": for girls this just means making the skirt shorter. For guys, no need for a sexy upgrade: the freshman girls will already be crawling up on you to take pictures with you. I mean, that's what the John Carroll statue was intended for, right?
2. MSBro
Does this one even need explaining? The multiple layers of polos (extra points for Vineyard Vines brand) are both warm and super stylish, the rest are lifestyle choices if you truly want to commit to the character. Alternatives include a SigEp shirt or even a Goldman Sachs zip-up you got from your internship over the summer. Both are great options.
Pursue this costume with reckless inhibition. Who cares that Halloween is on a Monday? You weren't going to go to class anyways!
3. Jack the Bulldog
A potential downside to this costume is that for the ladies, it may be slightly more difficult to stand out among the abyss of other animal-eared gals, especially when being a cat for Halloween is basically the same thing as wearing Stan Smith's on campus…we've all done it and we're all guilty. But whatever–the upside to this costume is that, like most animal-themed costumes, it's really easy to make this sexy.
Dog ears + Georgetown crop top and maybe even some dog face paint (if you're willing to try out that Instagram DIY against your better judgement) = perfect five minute costume and you're not even going to have to use the snapchat dog filter all night!
Seriously, don't use the dog filter with this costume, its too meta and you'll probably end up looking something like:
4. Chesapeake Babe
This is every Georgetown girl's last minute costume. Just throw on your Lilly Pulitzer shift dress, Jack Rogers (obviously the gold ones), navy LongChamp (all which should have been included in your welcome package) and you're good to go. Oh, and for the hair, just take the two pieces around your face and clip those bad boys together in the back. Bonus points: bring a Martha's Vineyard windbreak in case, like, it gets chilly.
Sexy version: Try a two piece Lilly set; some of the skirts are seriously short and you can always throw on a monogram necklace or some Cartier love bracelets to spice things up.
Enjoy every moment because this is the one night in the Georgetown/DC area that you could stand out wearing any combination of these items.
Show up to the party with a few of your friends and start talking about Nantucket and how Exeter parties were so much better than the ones here:
If you don't have something to wear yet, then you def need to get yourself together and take one of our suggestions. Don't be too picky or you'll end up wearing some stupid banana suit you got from a friend-of-a-friend under some bed in New South. Beggars can't be choosers and these next two weeks are crunch time.
And in case you thought you finally found a Halloween-related post without a Mean Girls reference or gif: SURPRISE! Happy Hoyaween!
Photos/Gifs: pinterest.com, huffingtonpost.com, wikipedia.com, lilypulitzer.com, iwalk-free.com