Well friends, it's that time of year: the last week of classes. We're almost to the point where we don't have to go class every day of the week. Summer is so close, yet so far (because of the gloom of finals that hangs over our head). But fear not! There's something even closer than finals that shines a little lot of light on our lives: Georgetown Day. There's only one thing we at 4E can say about God's springtime gift to us:
Actually, there's a lot more we can say about Georgetown Day (just search it on our site). As a fledgling in September, I could only dream of Georgetown Day. I heard so much about it from upperclassmen. They talked about how it was like the Homecoming of the Spring, how it was a free pass to skip class to have the time of your life on a weekday and how it symbolized another terrific year coming to an end. I figured it had to be a great day. If it was anything like Homecoming, things were sure to get…crazy. However, I could not truly know what they were talking about since I still had not yet experienced it. But here we are. It's time to celebrate in true Homecoming fashion:
*Only if you're 21+, of course*
As I'm sure many other freshmen have not yet experienced Georgetown Day (and to those who have, congrats, but you're still in our grade), I have composed a series of forecasts. Weather? Unimportant. I'm forecasting what may (or, disclaimer: may NOT) happen to you on this fateful day:
Black out or back out. You're at it from the get-go. One of your clubs starts partying at 7 AM and you are there right on time. You throw back some mimosas and before you know it, you switch to some stronger liquids. DANGEROUS, but you still pull through. The morning flies by and soon you're strolling across campus, out of your mind feeling ~young, wild and free~. In the back of your mind, you know that there are going to be some pretty bad pictures of you the next day. You start to feel a bit more normal and decide to nap. But wait. You get dragged to another party before you can go sleep, but luckily the bouncer turns you away. Next, you run into another upperclassmen in your club (that met at 7 AM), and she convinces you to return to the party. Before you know, you're back at it again. You later text some of your friends to see who's up for Leo's because at this point, food is the only option. One of them responds, so you leave the party…and you wake up in your bed at 2 AM, alone and confused. How did you get there? No one knows. Not even you. You had fun during the day, but regret the fact that you went too hard and could not keep going. Overall, you consider your day to not be a win.
Black out and DON'T back out. You're a champion. Your Georgetown Day experience is basically the same as that of #1, except you don't retire to your room at 5 PM. One might compare this experience to the opening of Dylan Thomas's poem Do not go gentle into that good night because, like the persona says, you "rage, rage against the dying of light." Nothing drags you down. You apparently make it to several parties and live out the saying "lights on, no one's home," because your mind is just not in a good place. Your friends inform you of your actions the next morning, but you look back on the day with no regrets. You know that you killed it, and you are proud of your freshmen year finale.
It's a marathon, not a sprint. This is, arguably, the best route to take on this glorious day. It's the advice most upperclassmen give to freshmen when darties happen. You do not go too hard throughout the day; instead, you keep a nice feeling going for the entire day and maybe even part of the night. There is not a single moment when you're feeling too out of control or too subdued. You have the time of your life and remember everything. Your day comes to a close, and you lie in your bed, absently smiling at the ceiling as you look on over your perceived victory. You made it through Georgetown Day alive and spent the entire celebration with your friends! At the moment, you feel like you just finished the best day of your life.
Becoming Nurse Ratchet. You spend the day painfully sober, taking care of your friends who need a certain type of assistance. Instead of becoming Nurse Ratched from One Flew Over the Cuckoo's Nest, you become Nurse Ratchet because…well, you know why this term applies here. Although I am all for helping friends, it would be not be very fun to take this route.

Take care of them if necessary, but make sure you have fun too.
I, for one, am beyond excited for Friday. I think it's going to be an ~interesting~ experience, especially if I and my classmates decide to go to our Problem of God section at 1 PM. The forecasts listed above give a general outline of how the day may go. Of course, anything could happen. There is always room for surprises on days like these. Which path will you take (or which will take you)?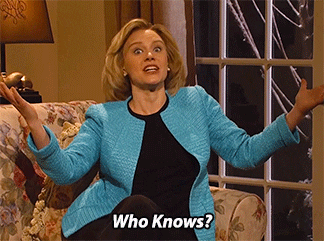 Photos/Gifs: giphy.com, wruf.com