Earlier in this semester, we at The Fourth Edition welcomed three new fantastically ~quirky~ sophomores to our staff: Jessica Alexander, Melanie Boychuk and Katie Watke!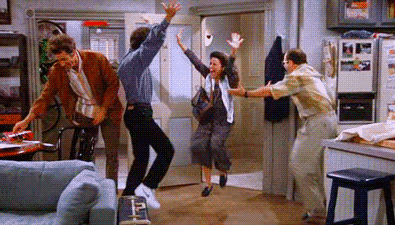 As the year progresses, we hope you get to know them through their incredible work, but for now, here is each new hire's "Top 5" list!
Jessica Alexander (COL '22)
Top-Five Bagels (Dedicated to Einstein's Lovers and New Jerseyans alike):
Everything
Pumpernickel
Cinnamon Sugar
Sesame Seed
Plain
Melanie Boychuk (COL '22)
Top-Five Most Pretentious Grocery Stores
Whole Foods: Whole Foods takes the (organic, gluten-free, $30) cake for most pretentious grocery store. Under the guise of "all natural, non-GMO" products, Whole Foods is ironically a serious detriment to shoppers' health when they immediately have a stroke upon seeing their receipt total.
Trader Joe's: Trader Joes is not simply a grocery store; it's an entirely different universe. In what other world can you buy wine for $4 while hipsters in Hawaiian shirts ringing you up tell you what you're buying is "totally one of their favorites?" However, out of respect for their low prices, they get to be No. 2 on this list.
Wegmans: Wegmans is well known for having relatively cheap products for good-quality food. However, its weirdly strong following places it in the middle of this list — ask anyone in Jersey and they'll tell you they would sell their soul to keep shopping at Wegmans.
The Fresh Market: The Fresh Market is trying to reinvent grocery stores by focusing on fresh food. Anytime a business uses the word "reinvent," you can be sure there's some sort of gentrification going on there.
Safeway: Posing as a regular grocery store among the likes of ShopRite or Stop & Shop, Safeway fools its shoppers with its almost too ordinary appearance. However, Safeway's jacked-up prices are most definitely not ordinary — and puts it at No. 5 on this list.
Katie Watke (COL '22)
Top-Five Best (and I mean the absolute very best) Chinese Foods To Order and Crave on a Daily Basis:
Bao Bun (preferably of the pork variety)
Shrimp (specifically) Soup Dumplings
All Other Types of Soup Dumplings
Egg and Tomato Soup (for those days when you've eaten one too many bao buns)
Peking Duck (would be number one if — and only if — the delectable dish weren't so inaccessible! The only Peking Duck anyone should ever eat exists only in Beijing, so until teleportation becomes a modern mode of transportation, I must sadly place this beloved dish at No. 5)