This hiring season, we at The Fourth Edition added some awesome new bloggers to our staff. Out of a competitive applicant pool, these eight people rose to the top, and we are so excited for you to meet them:
---

Alessandra Puccio (COL '17)
Top 3 Things Still On My Georgetown Bucket List
Become the first female member of The Chimes.
GoPro through the Healy Tunnels.
Choreograph my own Leo's flashmob.
---
Asmaaul Chowdhury (COL '19)
Top 3 Obsessions Of A Georgetown Student
Chicken Fingers (when sober): In a school that receives its food from a company that also serves prisons, Chicken Finger Thursday is very exciting.
Burnett's: Burnett's is your annoying C-list friend who won't leave you alone. Burnett's is demeaning, the epitome of economic self-loathing, and possibly necessary to get through your typical awkward Georgetown party.
Extracurricular Activities: For some reason, students here insist on having three internships, five fellowships, seventeen leadership positions, and ninety-seven hook-up buddies.
---
Charlie Fritz (SFS '19)
Top 3 Places To Sleep On The Hilltop
Lau 4 Cubicles: This depressing environment just bores one so much that sleep seems the only option. It's also very quiet, which makes sleep much easier.
The Couch Outside Vittles: I'm not kidding when I say that I've slept here for at least three hours…two nights in a row. It's out in the open, but also quite comfortable and especially  close to food sources.
A Fourth Floor MSBooth: If you're alone and tired, this is definitely a good spot to lie down and sleep. The booth provides comfort and allows you to remain partially hidden from public view.
---
Clare Canavan (COL '18)
Top 3 Building Materials
Clay: its like Play-Doh's less fun yet much more successful older sibling. I am especially partial towards this material because I made a clay bowl in 7th grade art class and my parents said it was really good, and now we use it to hold our extra writing utensils.
Plywood: I'm not entirely sure what plywood is, so I put it in the middle of the list to be safe. Is it the same as regular wood?
Straw: If you've read the Three Little Pigs, you have already been properly warned. Straw's only redeeming quality as a building material is its unmatchable performance in the hat department.
---
Daniel Breland (MSB '17)
Top 3 Reasons Kanye's Next Album Will Be Fire
It's been three years in the making. This means we've got three years of new and experimental material to work with. Think My Beautiful Dark Twisted Fantasy and Graduation had a baby.
Kanye has changed the album's name three times. Kanye is a very calculated man. He doesn't just put out albums willy-nilly. The fact that he keeps delaying it and switching the name ensures we are going to be getting his freshest product. Waves sounds like a winner.
Kanye is enlisting the top names in the industry. It's already reported that Kanye has legendary producers Swizz Beats, Timbaland, and rap icons like Jay Z approving his album's progress.
---
Graham Ritter (MSB '19)
Top 3 Freshman Traditions
Logging into an online Zoom lecture, realizing the camera is on and hitting the floor so no one sees your just out of bed look.
Slamming face first into the doors that separate Leavey and Regents.
Taking the radiator cover off of your New South air conditioner unit then texting the floor GroupMe about your amazing new discovery.
---
Maddie Schwartz (SFS '19)
Top 3 Tips To Befriend A Librarian
Help them organize their books. Remember to organize alphabetically by book cover color.
Bring your friends to meet them. Make sure they bring their friends as well. Librarians love a crowd, especially one full of energy and noisy, so get the party started!
Say "Hello" to them, when checking out books and even across the stacks. Make sure to be loud. They tend to be older and hard of hearing.
---
Molly Hamilton (NHS '19)
Top 3 Gifs To Describe A Yates Workout
1.The first five minutes on the treadmill: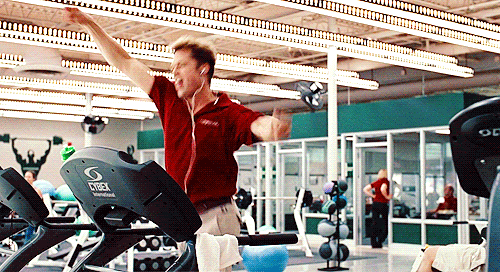 2. Looking at the treadmill stats of the D1 athlete next to you:
3. Leaving the gym: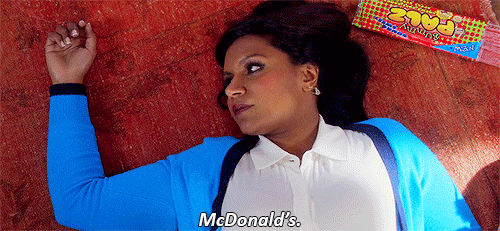 ---
Photos/Gifs: facebook.com, blog.thehoya.com, giphy.com