This weekend, I owned it. To those of you who may have been living under a rock or may have thrown your phone in the Potomac, Georgetown hosted its third annual OWN IT Summit on Saturday. The summit included speakers such as Megan Smith, CTO of the United States, Dava Newman, deputy of NASA, Anne Friedman and Aminatou Sow, co-hosts of Call Your Girlfriend podcast. Along with Abby Wambach, Two-time Olympic gold medalist & FIFA Women's World Cup Champion and also this year's keynote speaker and Own It award recipient. These are just five of the 100 speakers that graced our campus to talk about feminism, equality, life and simply how to OWN IT.
As I heard inspiring talk after talk, not just about how to be a strong woman leader, but how to be a strong woman in general, the owned it feeling kept growing and growing inside of me. It truly was a game changing day (which is the summit's motto). If you're already having withdrawal like me, or wish to simply relive the day (also like me) or are just curious about what this summit is all about, below you will find a rundown of my day, supported by small details, pictures, and quotes from the #ladymafia themselves. (If confused at anytime or want to learn more about OWN IT check out ownitsummit.com for more information on the event and the wonderful speakers.)
*Note: These quotes may not be 100% accurate. Scribbling them into my OWN IT notebook, with my OWN IT pen, while owning it, was no easy task.
In planning the first summit, Co-Founder & Executive Director of OWN IT, Helen Brosnan wrote in emails to speakers: "Hillary and Oprah are big fans!"
"I sat next to a man… who smelled like a lunchable" – Ayure Antoinette, Spoken Word Poet. "You give them you, you give them magic."
"If you ever hear no, I would just ignore it." – Dava Newman, Deputy Administrator of Nasa.
Megan Smith, United States Chief Technology Officer, on racing a solar powered car across Australia. "I did it. Just do it… take that first step."
After Newman and Smith's conversation on THE FUTURE OF SCIENCE AND TECHNOLOGY: Female innovators solving 21st century problems, I – who had been feeling nervous about taking Chem-001 next semester, was ready to own chemistry.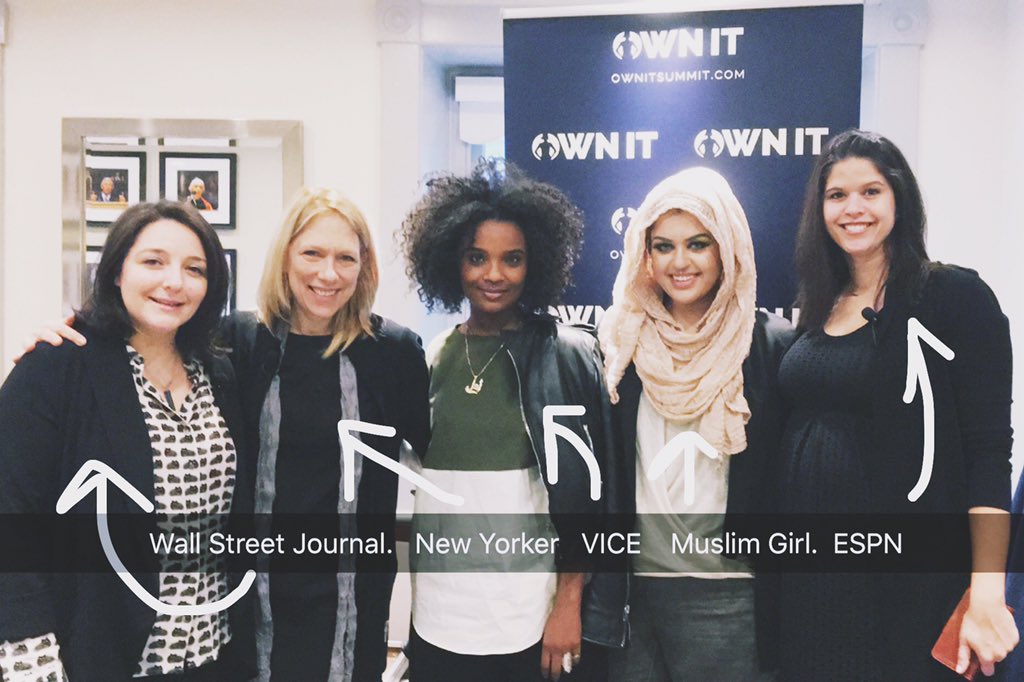 "I have a cramp in my back since waiting in formation for Beyoncé's new album." – Amel Monsur, Creative Director of Vice's Broadly's.
"The people who seem very lucky are the one's who see opportunity." – Alison Overholt, Editor-in-Chief of ESPN Magazine & espnW.
"I asserted my voice, asserted my representation in that space." – Amani Alkhatatbeh, Founder & Editor-in-Chief of MuslimGirl.net on writing a column for Forbes. 
"it is exhausting. I just want to be a leader, not a female leader." Carla Zanoni, Exectuive Emerging Media Manager, Audience Development at Wall Street Journal. "I can own the sh*t out of it… first of all I would just say own it."
"Until things are equal you just have to keep spotlighting." – Liza Donnelly, The New Yorker contributor & political cartoonist. "I was just following my passions and became a leader."
Two-time Olympic gold medalist & FIFA Women's World Cup Champion Abby Wambach said a lot of awesome things :
"Everywhere I walk I leave the trailblazing dust."
"I made a mistake, I'm owning it."
On not starting in the 2015 World Cup: "I didn't want to be pissed off for the rest of my life with not winning the World Cup… I can pout and whine about this or I can own it… Every time I say that do I get a dollar?" (one of the best quotes of the day).
"I was able to stay focused on playing soccer for 30 years, that's pretty good."
"What do you want to do now? I guess I want to change the world… you guys, wanna change the world with me?"
As the youngest of 7 children Abby decided, "I'll just become a pro-athlete so there's no way to look away."
"What it meant to be a champion… to sacrifice yourself and represent your country" on what Mia Hamm taught her.
"We do deserve to be treated equally" – Norah O'Donnell, Co-anchor of CBS This Morning. 
So then I went to some pretty awesome breakout sessions…
The First was, Gun Reform: Is It A Feminist Issue?:
"It takes everyone's voice and creativity." – Abbey Clements, Elementary school teacher; Survivor of the Sandy Hook shooting on December 14, 2012 and advocate for gun reform.
"And I found myself organizing a dildo protest." – Jessica Jin, Founder of #CocksnotGlocks campaign to fight campus carry. "None of us planned to get into this."
"No one's gonna mess with the moms… they've done the work to build communities." – Amber Goodwin, National Advocacy Director at Americans for Responsible Solutions
"We have kids, they have guns… if we lose our kids, we have nothing left to lose." – Shannon Watts, Founder of Moms Demand Action for Gun Sense in America
My second Session was Run Like a Girl: Women in Sports: 
"The biggest win for me is [my players]." – Natasha Adair, Head Coach of Women's Basketball at Georgetown. "Tired isn't an option when you have a job to do."  "Don't let anyone tell you it can't be done… we have to tell ourselves not to be afraid." The Women's Basketball team is incredibly lucky.
"Live with or chip away at the bias." – Liz Boardman, Senior Client Partner in Global Sports Center of Expertise at Korn Ferry (also Georgetown alum and former field hockey player!)
"You have to be persistent with who you are." – Tisa Huff, Ballerina and dance teacher in D.C.
After the Breakout Sessions we went back to Gaston for more main stage panels!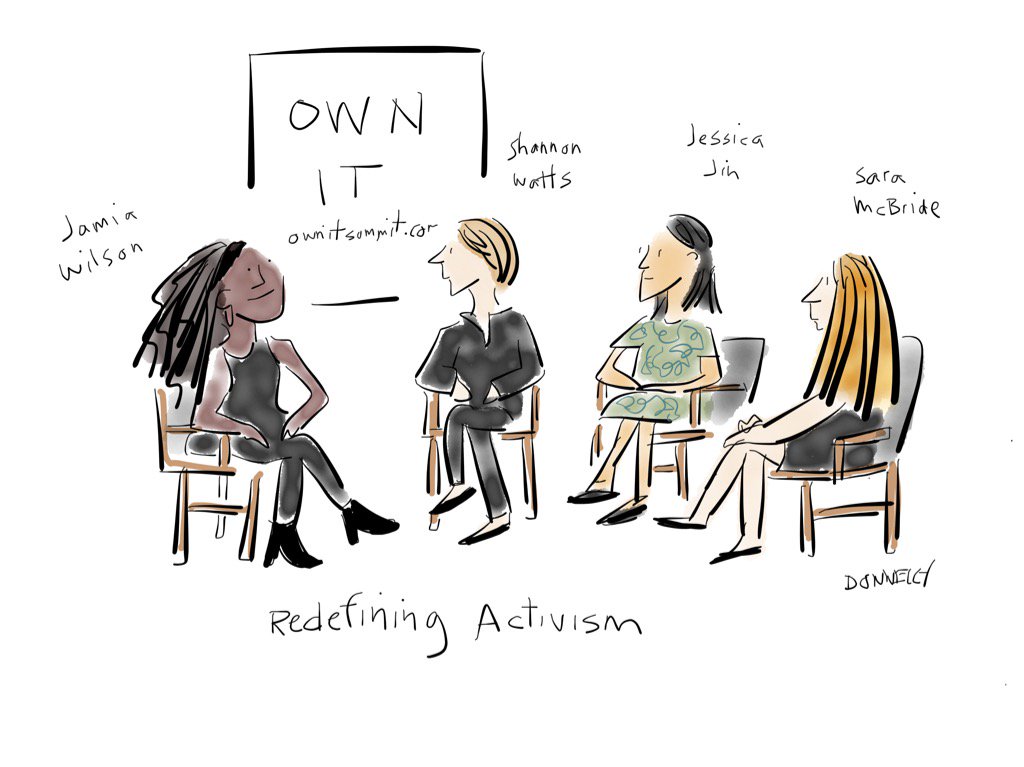 "I am just running from the haters and having fun, who doesn't love a dildo march?" – Jessica Jin. "I've started something I didn't mean to, and I've owned it."
"We should all be lighting each other up… it might be the thing that gets [someone] through the day." – Sarah McBride, LGBT Activist & Campaigns and Communications Manager at Center for American Progress.
"Get involved and repair the world." – Shannon Watts
"Taking ownership of our own freedom." – Jamia Wilson, Director of Women, Action, and the Media.
"If you google hell the DMV is the first thing to pop up." – Jenna Arnold, Co-Founder of ORGANIZE. She had a lot of wisdom to offer:
"Being human means being confused 99% of the time."
"When you wanna get something done give it to a busy person."
"That was a great lesson my mom gave me, no one really cares what you're doing."
"There's not a better time to be a lady than today." – Aminatou Sow, Co-host of Call Your Girlfriend Podcast & Founder of Tech LadyMafia.
A great reminder from Sow: "when you think about someone just get in touch with them in that moment."
It's true… "Secrets out. Women make great friends." – Sow
"We don't think periods are personal." Ann Friedman Co-host of Call Your Girlfriend podcast & New York Magazine columnist.
"Mainstream media doesn't treat young women like they matter." – Sow "Young women put Michelle in the White House." – Friedman
"What's your guilty pleasure? Reading the Wall Street Journal." – Sow
Friedman on her and Sow's friendship… she gives me "permission to be myself, to be great, to be vulnerable… and really good GIFS." Sow's response to the GIFS: "when someone gives you something you didn't know you needed, it's beautiful." I feel like they both would make great additions to 4E. (Okay so they may have said gifts but I heard gifs… same thing right?)
That was it for the speakers, but perhaps two of my favorite quotes came at the close of the summit. Co-founder of OWN IT and recent graduate, Kendall Ciesemier congratulated her Co-Founder and Helen Brosnan:"if you don't know Helen to know her is to love her."
and to that Helen responded "that's gross no one likes that."
It's hard to accurately capture how amazing this day truly was in just a short blog post. But "when the patriarchy is just pulling me down" – Helen Brosnan, I will return to the memories of this game-changing day, and go out and OWN IT.
Pictures: Facebook: Georgetown University & OWN IT. Twitter: @xoamani & @lizadonnelly.