Tickets for Georgetown's Diplomatic Ball are on sale this week. Although it may be a time to ~hang out~ with some diplomats, we all know the best part of the night is dressing up. So if you're unsure of what to wear and how to look fab in that #insta we all know will be posted, 4E has a few ideas for you!
Low budget options:
The classic Trash Bag Dress. This outfit is just a step out of your dorm room. Find the nearest trash can in your hall and get ready for lots of jealous stares!
A Duct Tape Dress is a timeless look that involves only a few rolls of duct tape. The more patterned the tape, the more people will notice you, so be sure to begin working on your dress today.
Nothing says diplomatic like wearing your convocation robe! All those diplomats will know how serious you are about your studies and stealing their jobs working with them in the future.
Celebrity Inspired Outfits:
Celebrities always have the right idea when it comes to fashion, so if you're looking to wear something that says "I'm cultured!" these next outfits are for you!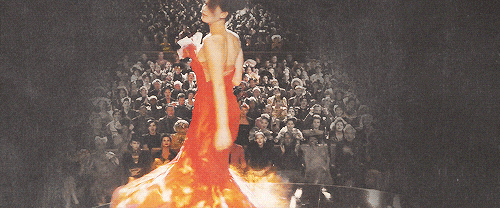 Set the dance floor on fire with Katniss's Girl on Fire Look!
To make the entrance of a lifetime, try Lady Gaga's 2011 Grammy Egg Look.
If you want an outfit that screams State Department, but has a nice pop of color, try one of Hillary Clinton's pant suits! This outfit guarantees a conversation starter with your favorite diplomat.
To add a little ~magic~ to your outfit and the night, try Ron Weasley's Yule Ball Look. Just make sure to stay far away from all the Slytherins at the ball.
Group Outfits:
Grab a date and go for the wow factor with Justin and Britney's infamous denim look!
This last look is for the whole squad. If you want to meet some diplomats, but don't want them to meet you, grab some blue paint and a couple of friends. To take the look a step further and to be extra memorable, bring some blue paint with you and throw it all around the dance floor!
Photos/Gifs: brit.co, pinterest.com, uchicago.edu, giphy.com, mtv.com, freerepublic.com, wikipedia.org.