It is a well-known fact that Georgetown is fraught with traps. Like the city that houses it, the Hilltop was designed to confuse invading armies — a common occurrence for this hallowed fortress.*
Besides the winding streets and myriad hidden halls (Robert E. Lee's army was actually trapped trying to find a Vil B apartment), the earth itself works to wear down unfamiliar intruders and carefree visitors.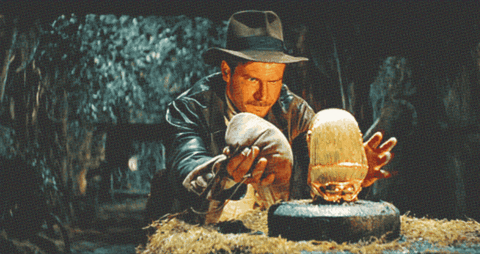 So, whether you attend Georgetown or are just dropping by, here are the deadliest places to walk on campus — these were definitely designed to maim the enemies of the Hilltop and are not just a damning reflection of Georgetown's crippled facilities management (@JohnJDeGioia).
*The author would like to note that this information is NOT fact-checked.
The Red Brick Ruins
In the Golden Age of Georgetown, just five years hence, when giants dominated the Verizon Center and people feared the yell of "Hoya Saxa," the ICC was a bustling center of commerce. Merchants from all across the District would flock to show off their finest wares.*
Ever since the dark reign of Julius Tyrannicus the Third (often shortened to JT3), the famed Red Square fell into ruin. Where once marketgoers could barter and feast with nary a worry, citizens must now navigate pockets of missing bricks (see below) and the occasional puddle after a strong storm.
Worse still, there's now some weird archaeological dig taking place on Copley Lawn, not only releasing some kind of curse but also keeping students from relaxing on that verdant green.
We live in hope of a new age under King Patrick.
*The author would again like to note that this information is based on legends told to him by upperclassmen.
The Henle Crevasse
As a resident of Georgetown's highest peak (s/o to all my Darnall babes), I am inclined to find all possible entrances to my home that avoid the infamous hill.
Upon my arrival, rumors circulated of a "secret stair" that cut through Henle and circumvented the long path to Darnall, along with the staircase that waits at the very end. I committed myself to uncover Henle's "Northwest Passage."
One day, on a night journey back from Healy, there lay a crossroads in my path. Right past Arrupe, there stands a gradually sloping stair that leads into Henle. Ascending the staircase, I ended up in a common outdoor area filled with terrors: An unnecessarily large cutout of Ronald Reagan, a peeking Guy Fieri and some dude smoking a cigarette surrounded me.
I ran up another set of dark stairs in a flight of fright, which led to yet another fork in the road. A path led deeper into Henle, arriving at a pitch-black tunnel. Seeing the side entrance to Darnall through the darkness, I sprinted through…
And caught my foot on this deathtrap:
The Slopes of Darnall
Alternatively, if you're not out of shape or lazy like me, you could just go up the hill that leads straight to Epi.
But beware, traveller, for this path is still full of dangers!
Approaching the construction site, the air grows dustier, the atmosphere louder. Most terrifyingly, the path grows narrower — just a yard across. Bikes, scooters and a-holes with umbrellas will often rush past you in a series of near misses.
It is also on this path that people don't know how to walk single file. That makes this 10 times worse:
This little monster (now covered) will catch your foot if you're not careful. The unexpected drop really does a number on your ankle — and your attitude.
The Uneven Path to O'Donovan Hall
Below the looming shadow of Southwest Quad lies another three-footwide path of poor design. While the sidewalk on the other side of the road near VCW is much larger and better paved, it requires crossing a street with an oddly large amount of traffic.
The risk of the walk below McCarthy is rewarded by a straight-shot to Leo's.
On the ends, however, lie two deadly snares that could really ruin your day. At the corner, the entire right side of the sidewalk near the bushes is uneven. Because of the uniform texture and color, this slope is barely noticeable.
A similar slope lies near the bench at the end of the walk.
Worst of all, this trouble leads to the greatest deception of them all: that anything in upstairs Leo's is worth waiting for.*
*The author would like to note that he absolutely stands by this opinion and literally high-fived himself while writing that joke.
The Three Circles of He(a)ll(y)
The Devil's Three Eyes. The Claws of Copley. DeGioia's Teeth.
There are three pits at the very outset of the grand road to Lau, where the trash cans are and where there always seems to be some kind of delivery truck.
These holes used to be the base of three poles, which closed off the path for bikes, trucks and scooters. Now, they are simply a death trap for bikes, scooters and pedestrians.
To the unwary eye, these death pits could ruin your foot, your tire or your dignity. Of all the aforementioned traps, these are definitely the greatest existential threat to every single Hoya that goes to Lau.
Mr. DeGioia, fill in these holes.
Coda
Maybe I'm clumsy. Maybe my vision is bad. Maybe I walk like a newborn child.
OR maybe, I'm a victim of an obviously deteriorating campus.
I get it: The wonderful people at facilities have more important stuff to do like constantly fixing leaks, floods, black mold breakouts and bathroom lock-INS. BUT even covering it up with a wooden board — like how Adam Sandler covered up Cole Sprouse's pee in "Big Daddy" — is better than letting people trip.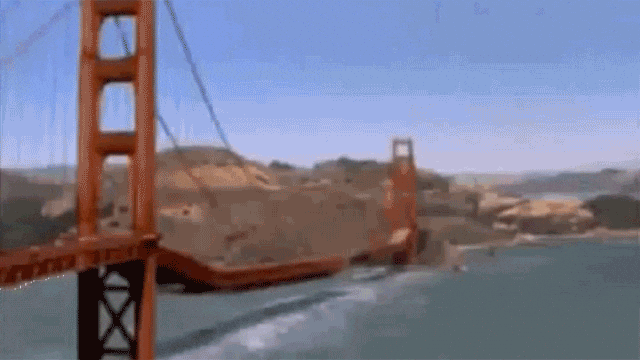 All gifs from giphy.com