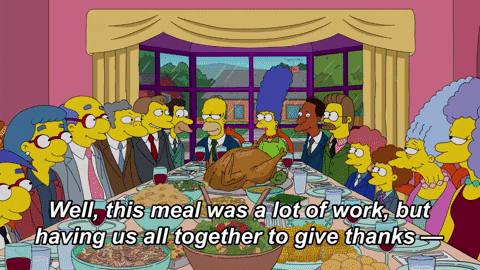 If there's one thing my friends know about me, it's that I love to cook. It's my all-time comfort and stress-relieving activity. Whenever I'm feeling down — or just bored, I'll be in the kitchen…or on TikTok, or on TikTok in the kitchen. It's also my favorite thing to do when I want to procrastinate. If there's a paper due in the next couple of days, I'll pregame with some blueberry, lemon poppyseed and chocolate chip muffins. It's all part of the process. I like to justify my procrastination by telling myself that to nourish my mind, I need to nourish my body. In hindsight, I think that adage holds true. I can't think on an empty stomach, and I don't think others can either. It's important to recognize the needs of your body. If it's telling you to cook a five-course meal the night before an exam, go ahead and do it!
No kidding, I've done that before. It's currently less than a week before the start of finals and I still keep making dinner plans with people. But like I said, I'm nourishing my friends' bodies so that their minds can find nourishment as well. There aren't any losses here (except maybe my bank account). Anyway, here are some occasions when I've asked some people to come over for dinner.

The First Supper
This was my first dinner party. I invited some friends over to grub on some pasta inspired by TikTok and Gigi Hadid, as well as eggplant parmesan, caprese salad and an upside-down peach cake. Fun fact: I bought the long serving dish and the large glass baking dish from the thrift store a couple of days prior for this dinner. I'm proud to say it turned out well, and I'm still using both today.
VSAxDinner
I hosted this dinner for some friends from Georgetown University's Vietnamese Student Association (VSA). I was extremely excited to have them over because I hold VSA and the people in it close to my heart. That night, I made Japanese curry with carrots and potatoes, tonkatsu, white rice, scallion pancakes, miso soup, banana bread and muffins. As you can see, the white serving dish has now become part of my dinner party mise-en-scene.
Taco Wednesday
This dinner was a particularly fun one to make. When cooking, I love to incorporate as many colors as possible and this "Taco Wednesday" dinner hit the spot. I served flour tortillas with shrimp, chicken and veggie fajitas, corn salsa, and a cilantro-lime cream sauce. It was delicious and gave me an excuse to bust out the cast iron.
Charcuterie Galore
I hosted this dinner for my internship cohort with the office of Rep. Karen Bass. We're all pretty much in the same age group and started working within the same couple of days. I made two charcuterie boards (one with meat and one without), a kale persimmon salad, another caprese salad and pizza (not pictured, but you can see the toppings). I always enjoy making pizza dough because it's fun to see how tall the dough rises overnight.
Friendsgivings
These next two dinners were friendsgivings I hosted during Thanksgiving break. It was refreshing to see all my old friends and be able to share my newfound skills with them. In the first picture, the star of the show was the turkey my sister made. She cooks the turkey in pieces, allowing for full flavor impact in each bite. In the second picture, the highlights were the upside-down orange cake, mini apple tarte tatins, and elephant cookies for dessert. Fun fact: I burned my upper lip pretty badly taste testing the caramel and ended up having to throw it out because it turned out burnt. I'm still suffering from that battle wound today. Sigh.
Sometimes I look at other people singing, dancing, drawing and painting and get a little disappointed because I can't do any of it (trust me, I've tried). But, as of recently, I've begun to realize that my artistic ability comes with making food, conducting dinner parties and creating a welcoming environment for my guests. It takes a bit of work but it makes me elated to see other people happy to eat and enjoy each other's company. It makes everything worth it in the end. So if you're ever in need of a nice meal, company and some body and mind nourishment, come over for dinner!