Welcome to college, where mattress toppers are one of your most important possessions. Sleep is definitely the most important thing in my life right now. I had the misfortune of having no mattress topper for the first couple weeks of school, so I got familiar with my Georgetown-supplied mattress.
I treated that mattress well, keeping it clothed with my Bed Bath & Beyond 300-thread-count twin-XL sheets, which I washed two (2) times in the first couple weeks of class. It wasn't as kind.
Going in, my expectations were pretty low: I knew my dorm wouldn't scream "luxury." Yet, the inhumanity of such an unrelenting material almost seemed sacrilegious. The mattresses supplied to us by the Jesuit Order definitely did not take cura of my personalis.
I don't blame Georgetown for such hostile living conditions. I get it: The university has better things to spend its measly budget on — like a new gym, but one that's only for athletes.
I'm no MSBro, but I can tell you that toppers range from $10, to over $200 for some fancy "organic" ones. Don't get me started on what "organic" mattress toppers offer that non-organic ones don't; that can be a topic for another day. There are many options with which to top your mattress, but for those who are more basic, I applaud you. I attempted that lifestyle for a couple weeks, but my body was too frail for such exertion.
That's why I'm in love with the concept of mattress toppers. They're at the crossroads of necessity and luxury, much like a minifridge or that extra Kate Spade bag you bought last month. Among the plethora of mattress toppers, each one tells a story and gives insight into the student who lays on it.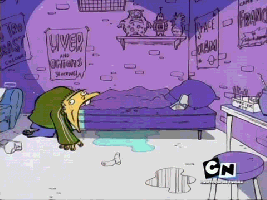 After extensive interpersonal and detailed research, I've concluded that there is a direct correlation between mattress toppers and personality type:
No Topper:
Doesn't go to class.
On the path toward nirvana and giving up every shred of physical attachment to this world.
Probably shotgunning nitro brew coffee in the shower.
1-to-2-Inch Topper:
Probably hasn't washed any sheets yet.
In Lau studying rn.
Always dehydrated.
2-to-4-Inch Topper:
A little dramatic.
Hates the cold.
Always on an e-scooter
Over 4-Inch Topper:
Probably doesn't sleep much anyway.
Compensating.
Doesn't know how to type properly.
So, there you have it. Sleep tight, Hoyas.
Sources: giphy.com