As you may have heard, Georgetown's very own prodigal son is returning home to the Hilltop this week. And as cynical as we usually are here at 4E, this is actually a pretty cool thing. After all, since the events of the past year have forced us to acknowledge that Eric Trump, Steve Bannon, and Paul Manafort are technically alumni, we need to celebrate the Hoyas who didn't collude with Russia have made a positive impact in the world now more than ever.
But as you prepare to camp outside Gaston to hear his speech, many of you who were born in the late-90s may be asking yourselves, "Who is Bill Clinton?" We know from eavesdropping on Blue and Gray tours that he certainly attended Georgetown, but is he really a Hoya? If he were a student today, would he regularly attend Jersey Night? Would he mourn the loss of Quick Pita? Would he post in the meme group? And more importantly, would his memes be dank?  To try to answer some of these pressing questions, we here at 4E briefly skimmed carefully read and took diligent notes on Bill Clinton's autobiography, My Life, and came to the following conclusion:
Bill Clinton is a true Hoya.
Take a look at our reasoning below:
1. He Loves Wisey's
The Quote: "At Wisemiller's Deli, just across Thirty-sixth Street from the Walsh building where I had most of my classes, I got coffee and two donuts for twenty cents every morning"
Our Analysis: Like all good Hoyas, Bill Clinton both loves Wisey's and eats there way too much. He definitely would have voted for the Hot Chick/Chicken Madness ticket back in the infamous GUSA election of 2016, and is surely a strong supporter of our unofficial school mascot, The Wisey's Rat™. So the next time you feel guilty about eating Wisey's cookies for breakfast as you walk in 15 minutes late to your class on the fourth floor of Walsh because the elevator was taking forever, just remember that you will probably grow up to be the President of the United States.
2. He Never Leaves Campus
The Quote: "In my first two years, I rarely ventured beyond the confines of the University and its immediate surroundings"
Our Analysis: For a true Hoya, Burleith is as exotic as it gets. Yes, just like a vast majority of Hoyas, Bill Clinton fell victim to the Georgetown Bubble. And yes, we know D.C. is a world-class city full of renowned food, art, and culture, but the whole Metro system is confusing and not a lot of places take GoCard. True Hoyas stick to complaining about the lack of options at Leo's and only venture beyond M street once a semester for Instagram-related purposes. Also "immediate surroundings" is definitely code for Chi Di. We'll see you there on Thursday, Bill. Hopefully you have a good ID though, they've been pretty tough this year.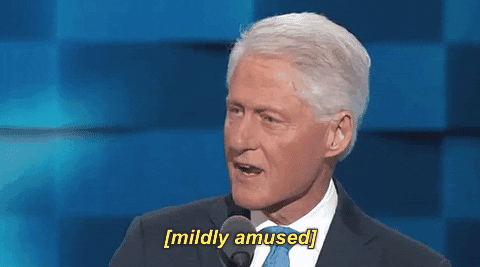 3. He Embraces Our "Sleep When You're Dead" Culture
The Quote: "My most memorable class sophomore year was Professor Walter Giles's U.S. Constitution and Government… By the time I got to his class I had embraced my lifelong affinity for sleep deprivation and had developed the sometimes embarrassing habit of falling asleep for five or ten minutes of class"
Our Analysis: Same, Bill Clinton. Same. Does it even qualify as a Georgetown class if more than half its students are awake at any given time? Whether it's in a lecture hall, on Healy Lawn, or in the middle of a professor's office hours (it happened once), falling asleep at inappropriate times is what we Hoyas do best. Honestly, Bill Clinton, props for doing this well in an era before you could try to stay awake by scrolling through memes on Facebook while the professor thinks you're taking notes. Side note to any of my professors who accidentally clicked on this article: I love your class! Keep up the good work!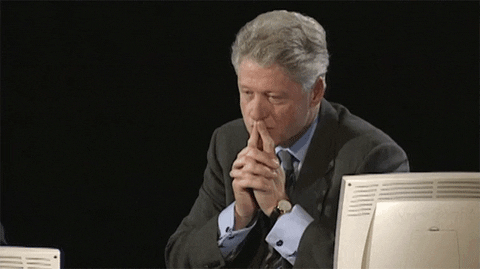 4. He Has a Capitol Hill Internship
The Quote: On interning for Arkansas Senator William Fulbright, "It was easy to fit the job into my daily schedule, partly because in junior year only five courses were required instead of six, partly because some classes started as early as 7 a.m."
Our Analysis: If you hadn't already guessed, Bill Clinton was in the SFS. This quote confirms it. I can practically hear this quote telling me he's a STIA major and that he has to go study for MAP. Even today, when Bill Clinton meets new people, I guarantee you that he finds some way to mention the SFS. This guy is a Hoya.
5. He Loves The Tombs
The Quote: "My favorite haunts in Georgetown were the Tombs, a beer hall in a cellar beneath the 1789 restaurant, where most of the students went for beer and burgers"
Our Analysis: Bill Clinton's Tombs Night was definitely lit. But not too lit, like where you had to call GERMS and the whole night was ruined. It was just the right level of lit, like where everybody danced to "In Da Club" by 50 Cent when the clock hit midnight, and then Bill Clinton got a great Instagram pic of his forehead being stamped by the Tombs bouncer. Every Hoya since John Carrol has made some of their greatest memories at the Tombs. Need we say more?
So there you have it: Bill Clinton is a Georgetown Hoya. Our diligent research has definitively proved it. We hope you all have fun accidentally falling asleep learning a lot at his speech on Monday- and huge props to the team over at #GUPolitics for making this happen! No disrespect to the time you got Martin O'Malley to play his guitar in McShain Lounge, but this is definitely much cooler than that.
Sources: My Life by Bill Clinton, Tombs.com, Facebook.com, giphy.com, Georgetowndc.com, georgetown.edu